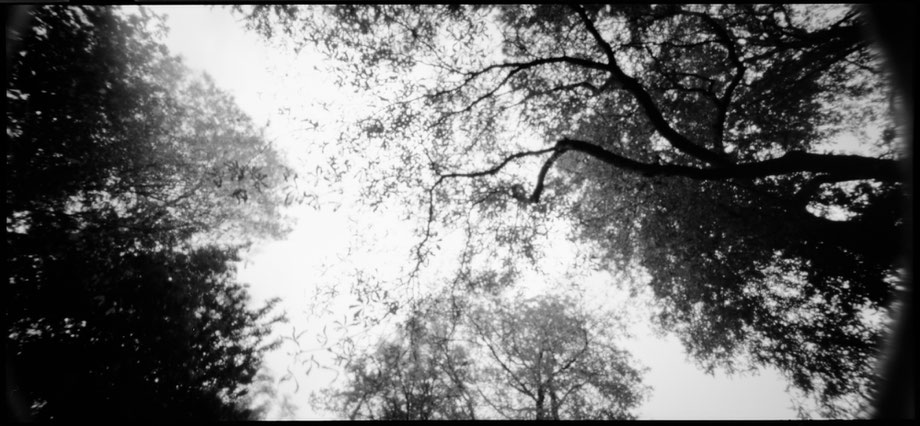 On the 1st October 2019 started the Holga Week where you take photos using Holga products only. A Holga is an iconic low price plastic camera which is known for their light leaks and vignettes. The Holga 120 S was the first model produced for the China market in 1982. In the meantime there are much more models available and I own also some of these. 
I wanted to make some pinhole photos because I like the different look and the remarkable atmosphere it can give. So I decided to take my Holga 120 WPC camera, my tripod and some expired Kodak TMax black and white film.
What is so special about a pinhole camera?
First it has no lens like other normal cameras. There is only a very tiny hole for the light to pass through. This leads to a much longer exposure time of several seconds or minutes. For instance the Holga WPC 120 has an aperture of F/135 with a 0.3 mm small pinhole.
Then the look of the pictures has a special characteristic with it's infinite depth of field. This causes an even sharpness where everything is in focus whether it's near or far away.
holga WPC 120 Features
The Holga WPC is a super wide medium format camera which gives full 120 degrees. You can insert one of two provided masks. The bigger is a 6x12 frame where you get six pictures per 120 film roll. Also a smaller one is available for nine pictures in a size of 6x9.
How to take a pinhole picture?
What you need is a pinhole camera with some 120 film, a tripod, a cable release, a light meter and maybe a timer.
You have to do the following steps:
That's all you need to start capturing your first pinhole picture. 
Now I will show you some results of the photo sessions. There were seven days to capture the images for the contest. Meanwhile I developed and scanned the first films. I chose the Adox APH-09 b/w film developer for a stand development of 60 min @20°C.
After all pictures are done I have to select three of them to submit to the contest. I'm really excited about the different outcomes from the other participants, but it will take some time until the announcements in November... 
Useful links:
Camera HOLGA 120 WPC Wide Pinhole Camera
Film Kodak TMAX 100 pro - expired 12/2000